Imprint
(needed for German authorities by "Teledienstegesetz" (TDG))
Please do not send mail to these addresses, but to the address shown at program's author.
Webmaster of this site: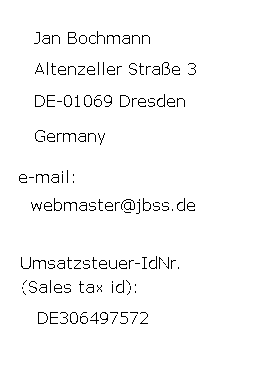 About GDPR (General Data Protection Regulation, German: DSGVO)
This website does not track visitor's data.
This website is hosted by Strato AG, Pascalstraße 10, DE-10587 Berlin.
With this an order processing agreement has been concluded (AVV according to Art. 28 para. 3 GDPR).

To the start page